Usage

Use for Unlimited Sites (GPL)
Update Notice

If we have missed to Update this Item let us know to update ASAP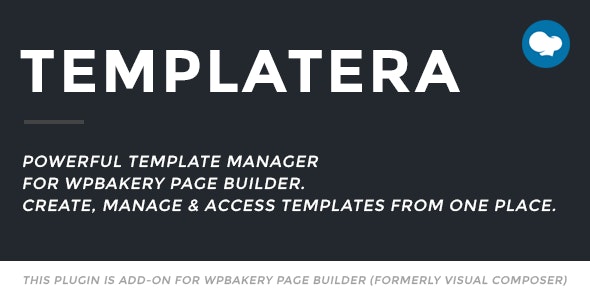 Templatera – powerful template manager add-on for Visual Composer Page Builder plugin.
From creators of Visual Composer comes well crafted native add-on for most beloved page builder of WordPress. Templatera allows you to create, manage and set control access to your templates based on user roles or page post types.
Manage templates from one place and instantly see changes without digging into each individual piece of layout. Create set of pre-defined content blocks (pieces) and use them at any place of your site. Forget about back and forth page updating – it is all taken care of. Magically! And yes, you can easily edit them whenever you wish!
When you install Templatera, then new content element "Templatera" will automatically appear in your Visual Composer element menu. New "Templatera" content element allows you to place pre-built templates as an independent blocks on your pages. When you modify your template, all pages that use "Templatera" block will be populated with new content automatically. Awesome!
Ever wanted to take your designed templates to another site? Now you can. Import/export templates in few clicks with build in import/export function of Templatera.
How to use Templatera?
Lets say you created block with contact details eg. Phone, Address, Email, Contact Form and used that block in multiple locations (pages) across your site, then you decided to change Phone or Email address. All you have to do is edit your original template and all "Templatera" blocks will be updated at the very same moment! So your new contact details will be updated automatically across your site.
List of Features
"Templatera" content element – create template "piece", place it on multiple pages and when you will update that "piece" it will be updated across all pages where it was used! You will never go back after using this block
New post type 'vc_template' which allows you to add/edit/delete your templates with native and familiar WordPress UI
Automatic migration of existing visual composer templates – no extra setup required
Templates access control by user roles
Templates access controls by content types
Import/Export templates in XML format – take your custom templates with you
Single Template Export – export only those templates you wish